Though literacy has traditionally been defined as the ability to read and write, the circumstances and realities of the 21st century necessitate an expansion upon this view! In the 21st century, literacy might best be defined as the ability to create, understand, and interpret written information across multiple platforms (i.e. digital in addition to traditional texts) in order to express one's self and communicate. The exact criteria of 21st century literacy has an element of fluidity, and thus, may vary according to time, geographic location, and cultural environment. This expanded definition of literacy has special meaning in social studies, and as a teacher, I must learn to embrace the multiplicity of mediums through which my students will obtain information about society and history.
One literacy skill that is essential to social studies the ability to contextualize sources.
When engaging with historical sources, students need the ability to determine the perspective from which a document is presented including how to differently interpret primary and secondary sources. With primary sources, this means that I can help my students by scaffolding the presentation of contemporary sources as well as front-l
oading units which seem separate from their understanding of society due to the passing of time.
Another essential literacy skill in social studies is synthesis and in relation to this, the corroboration of sources. In order to interpret information disciplinarily, students need to feel confident in comparing sources and drawing their own arguments and conclusions based upon them. As a teacher, I can help my students to gain these skills by making collaboration and group work a central part of my classroom. When students must interpret information together, they begin to gain the skill of synthesis and are more likely to transfer these skills into their own writing when they must engage with the views of others as presented in texts. Perhaps the overarching literacy skills which is essential to social studies is the ability to understand conceptually. Because social studies content is often rife with detailed facts and specific events, it is not always obvious to our students that we are discussing "big ideas." As a teacher, this part of the learning is our task to communicate and we must consciously and continually address concepts as opposed to facts.
Currently, there is a great need for disciplinary literacy instruction because these skills are foundational to higher level education and the critical thinking skills out students will need to be successful in their future education and in their personal lives as citizens. Disciplinary literacy instruction expands what are traditionally thought of as simply reading and writing skills and gives literacy the special attention it deserves as the key factor in a student's ability to communicate. This is important to me because in my personal experience I have seen that when these skills are not conscientiously developed and nurtured, students absolutely will not gain competence as readers and writers. Further, gaining disciplinary literacy skills will help students to become successful communicators in life outside of their formal education as they will be able to advocate for themselves and others more confidently.
Academic knowledge gaps can be the pivotal factor in whether a student is able to thoroughly interpret a disciplinary text or not. I think this is especially pertinent in social studies, in history especially, where students may have no frame of reference for the topic at hand and thus, may have no method to internalize the new information. In social studies, meanings of terms often change throughout time or when discussing from a different perspective (eg. the meaning of "conservative" in politics versus economics). I can help my students to become better readers despite knowledge gaps by differentiating texts and/or reinterpreting texts which use language students have to build up to. Also, this has to do with beginning my planning with the end in mind, and organizing my instruction around the conceptual understandings students must gain and be able to illustrate.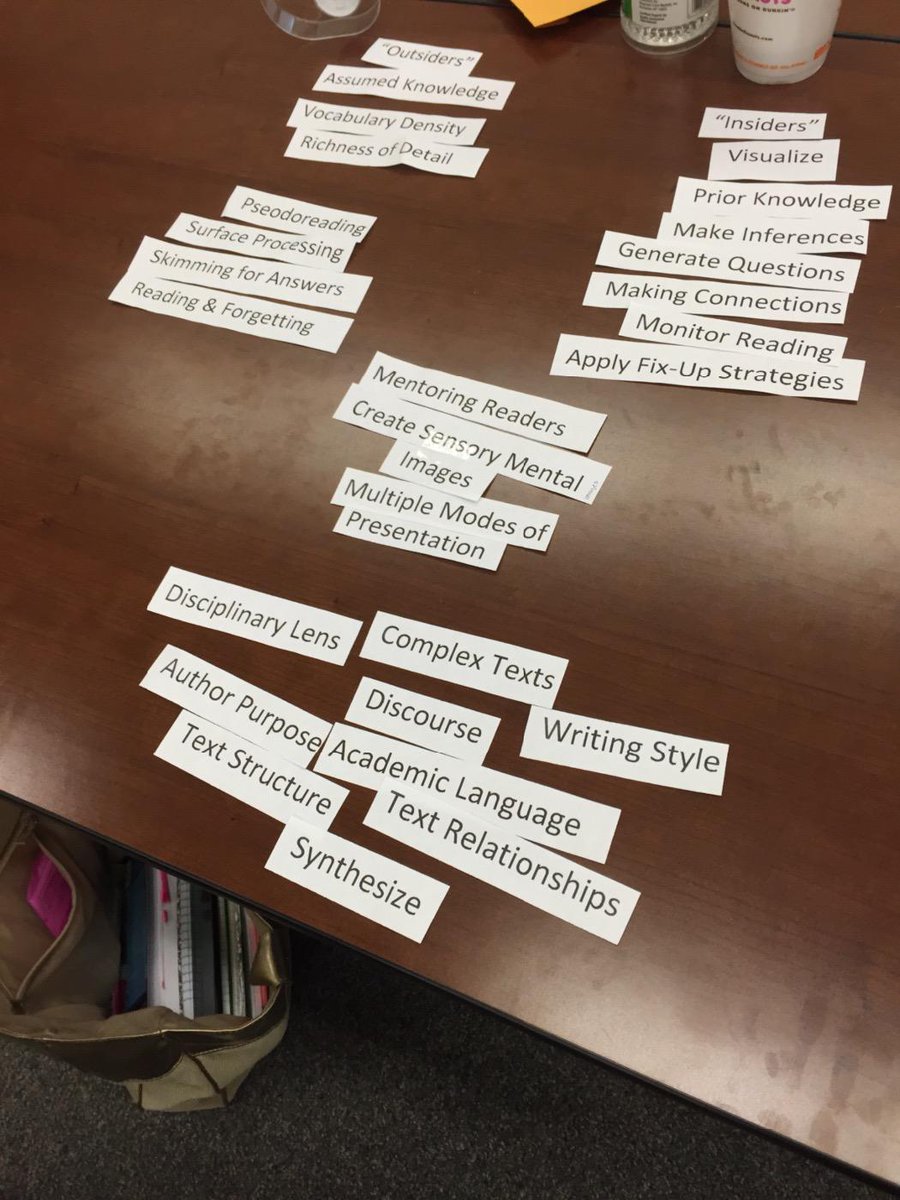 Generic literacy practices are useful to teachers, but must be modified to meet the needs of the discipline. The teacher must understand the goal they are attempting to accomplish by introducing the literacy strategy and organize the activity around this goal. Generic practices can also be modified by altering the types of texts the activity or strategy calls for in order to orient them to social studies standards. In adolescent literacy, the generic practices teachers work with must be tailored to the needs of the particular class and particular students.
Prior to the course, literacy connoted basic reading skills and had little to do with courses other than social studies and ELA in my mind. Since taking this course, I have a new understanding of disciplinary literacy that has much to do with my expanded definition. This is important as a understand the central role I will play as a social studies educator in helping students to gain specific skills to guide them in the social and academic worlds. I also have a more thorough understanding of why literacy instruction is the job of all teachers who must approach literacy as a skill in diverse disciplines.
Since the beginning of the semester, my seflies exemplify my expanded understanding of literacy. At the beginning, I was trying to capture more traditional skills of reading and writing yet, towards the end I tried to embrace an understanding of literacy that was based on the various times in life when we must interpret and communicate information. This is impactful to me as I have come to understand that literacy is a multifaceted skill that, when nurtured, provides our students with the ability to be leaders in their own lives.
What I have learned about adolescent literacy meaningfully connects to me as a teacher because I understand the multiplicity of ways through which I can help my students become better readers, writers, and overall communicators. I feel that specifically, writing skills, are essential to helping out students become successful adults in various fields and the skills I have learned will help me to nurture their writing. As a teacher, I hope to help my students become critical thinkers and the ability to compare, analyze, critique, and argue are central to gaining this pursuit. As a learner, I feel that what I have learned has better prepared me to teach students the literacy skills that I use whenever I come into contact with a text. I have a much better understanding of the skills and strategies I am using and how I am interpreting information and this will directly impact how I present information to my students and how I encourage them to engage.
To successfully support adolescent literacy development, we as educators need a wide range of strategies and skills which we can draw from to support our students. Likewise, we need professional networks through which we can communicate and exchange with our peers. All groups of students are diverse learners with different skill and prior knowledge levels and thus, we must diversify how we teach. We also need sources which our students connect to and when these sources are not as apparent, we must learn to present texts in a way which is approachable and relevant to our students and their personal interests. When students feel connected to our content, they will be more likely to engage themselves, and internalize the information they are presented with. We also need to provide multiple ways for students to illustrate their learning even with this must be in conjunction with traditional assessments.
I have come to understand that literacy skills are likely what helped me to become a successful student and these skills are often what guide my actions in the social world. When we identify these skills and consciously help our students to develop them, they too can find success in multiple areas of life.